Molzym-Newsletter
Hier die Geschichte des Molzym-Newsletters:
Ich bekam einen E-Mail-Newsletter der Firma Molzym mit folgendem Inhalt: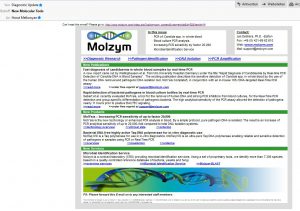 Ganz unten ist in kleiner grauer Schrift ein Text um den Newsletter abzumelden.
Ich habe dann eine E-Mail mit "unsubscribe" an die Adresse geschickt.
In der gleichen Schriftgröße, wie es in dem Newsletter war.
Unsubscribe
Noch kleiner ging die Schrift nicht mehr?
Keine Mails mehr.
This information is brought to you by Molzym // Mary-Astell-Str.10 // D-28359 Bremen, Germany // If this information is not of interest to you and you do not want to receive any scientific & service updates, please disregard and we apologize for any inconvenience this may have caused. To unsubscribe from the update list, simply reply with UNSUBSCRIBE in the subject line.
Ich bekam sogar eine Bestätigung zur Newsletterabmeldung.
Aber anscheinend muss man sich für jeden Unterpunkt neu abmelden: zur Erinnerung, ich hatte mich nicht für den Newsletter angemeldet. Bei anderen Newslettern kann man sich entweder von allen Bereich oder aber den Teilbereichen abmelden. Evtl. war deren Technik bei denen noch nicht so ausgereift, ich bekam weitere Newsletter.
Insgesamt habe ich mich 14 Mal von dem nicht gewollten Newsletter abgemeldet.
(Visited 58 times, 1 visits today)